Last month Andee and I headed out to Whistler.  For those of you that aren't familiar, Whistler is the Mecca of mountain biking.  It's home to one of the largest bike parks in the world with over 90 trails split between 4 sections (5 if you include skills area), across three mountain faces.  It's both impressive and completely intimidating, upon first glance.
The mountain supports an impressively wide range of skill levels, with trails for all ages.  Okay… not ALL ages, you still need to be able to ride a bike.  But make no mistake, we saw plenty of 5 and 6-year-old kids shreddin' down the mountain.  But if you can ride a bike and want to get on the mountain, they have something you can ride.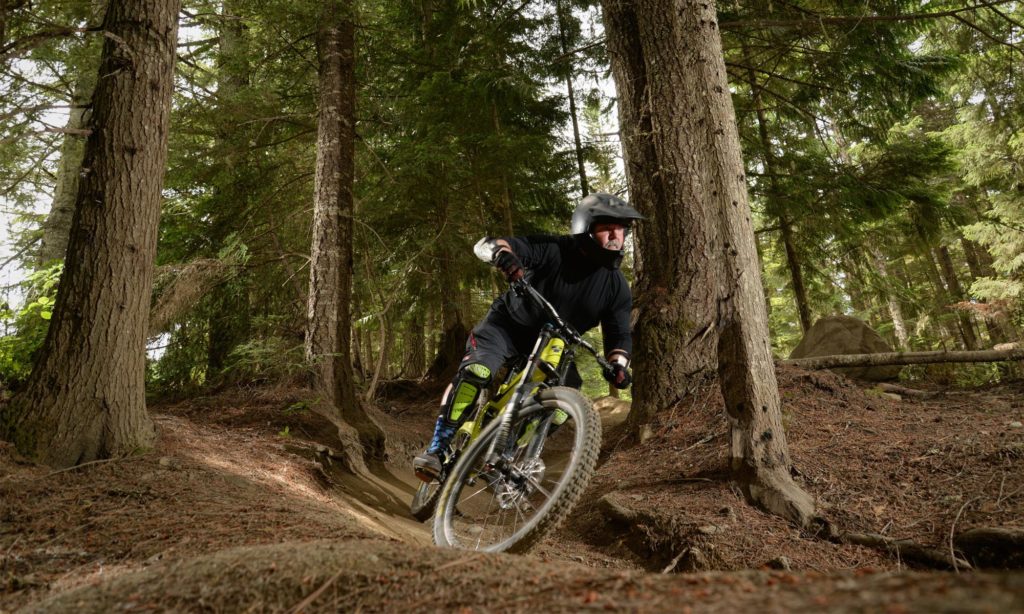 The Experience
Neither of us had ever ridden in a bike park.  I've had experience with skate parks, BMX tracks, state parks with mountain bike trails in them…  but NONE of those is a Bike Park.  So, the first impression was a bit draw-dropping.  I've been riding a long time and, in all honesty, I was a bit intimidated.  I can only imagine how my wife was feeling.  She had never even ridden in the mountains yet. So this had to be a scary scene, although she never let it show.
The first thing we had to do is go get our rental bikes.  Thankfully I had gone the day before to scope out the area and figure out where we were supposed to go.  The web site for Whistler is not that helpful, and if you've rented from the Whistler Blackcomb site, you're kinda on your own to figure out where you're supposed to go.  However once you get down to where the lifts are, you'll eventually find it.
Once we had our rental bikes, couple of GT Fury's, we met our guide out front.  Yeah.  Look, if you've never been there.  You're going to want a guide.  Just for a couple of hours at the very least.  They'll show you how to approach and mount the bikes on the lift, which in itself is a daunting task.  In fact, I'd say that dealing with the lifts was the most stressing part of the day. (secret note: The outside hook, is actually WAY EASIER.)  The guides are great, and will show you trail connections you'd probably miss on your own.  They'll give you riding tips if you need them and general information which you'll be appreciative of later. But most of all they'll figure out what level you're at and choose trails accordingly.  Keep in mind, they will challenge you, to keep your progression moving.  After about 2 hours, they'll release you into the park on your own.
We rode a lot of different trails, and we didn't even make it to the upper half of the mountain!  After a couple of rides down EZ Does It, we moved on to B-Line, to get used to the bikes handling.  With giant smiles on our faces, we kept looking for more. Golden Triangle, Ho Chi Min, and Ninja Cougar!  The wife had a scare on Ninja Cougar.  But she recovered, thankfully with no injuries and finished out the day.
I HIGHLY recommend getting an all-day lift pass and bike rental.  Because once you've gone down the mountain at speed, with arms burning, you're not going to want to leave.  So get your lessons and guide out of the way early.  Your soul will thank you.
As you read this, the wife and I are currently planning a return trip.  And will probably make this an annual event.  We were thinking of planning the trip to coincide with Crankworx next year, but I'm not sure I want to do that?  We went this year on Canada Day which was about two weeks before Crankworx, and the lines were short.  I liked it being a little slower, we could get a lot of rides in.
At any rate.  If you ride mountain bikes, do yourself a HUGE favor.  Go visit Whistler.